Capture your babies tiny fingers and toes with a selection of wonderful keepsakes from Pot Doodles.  3D life casts, Silver keepsakes, hands and footprints onto pottery or into clay or as a plaster relief.  Bring in your baby or 'furbaby' and capture the moment in these charming mementoes.  
Pot Doodles, to create and keep.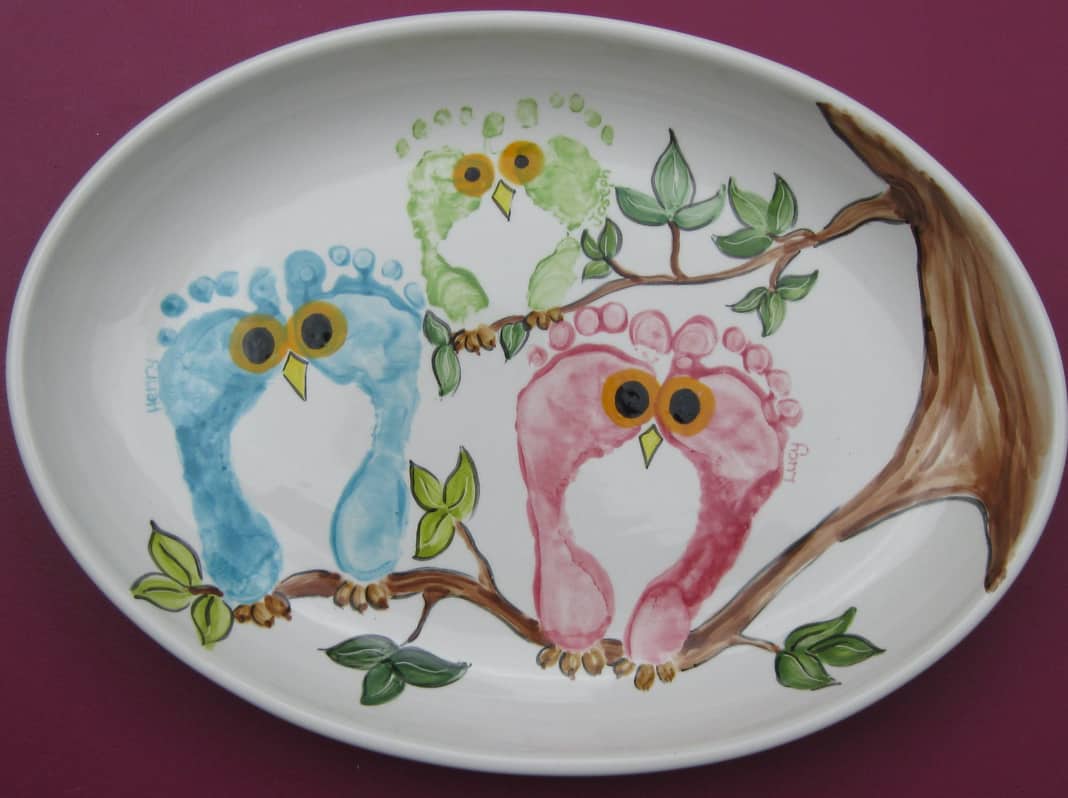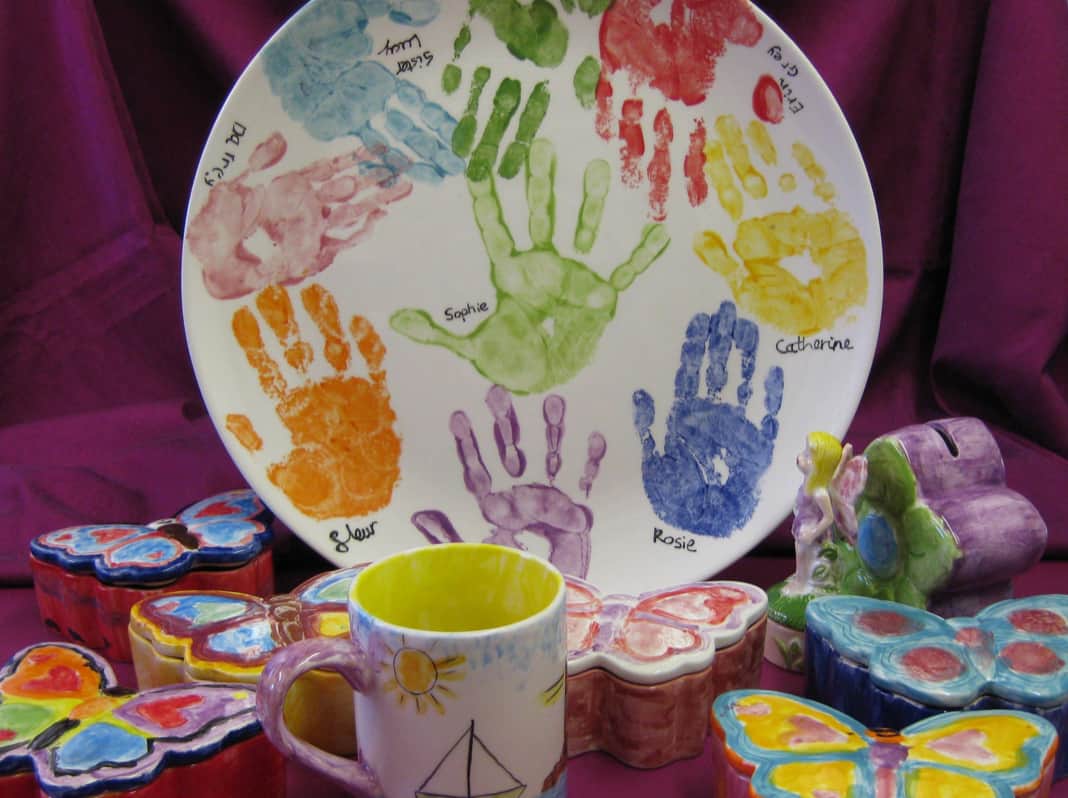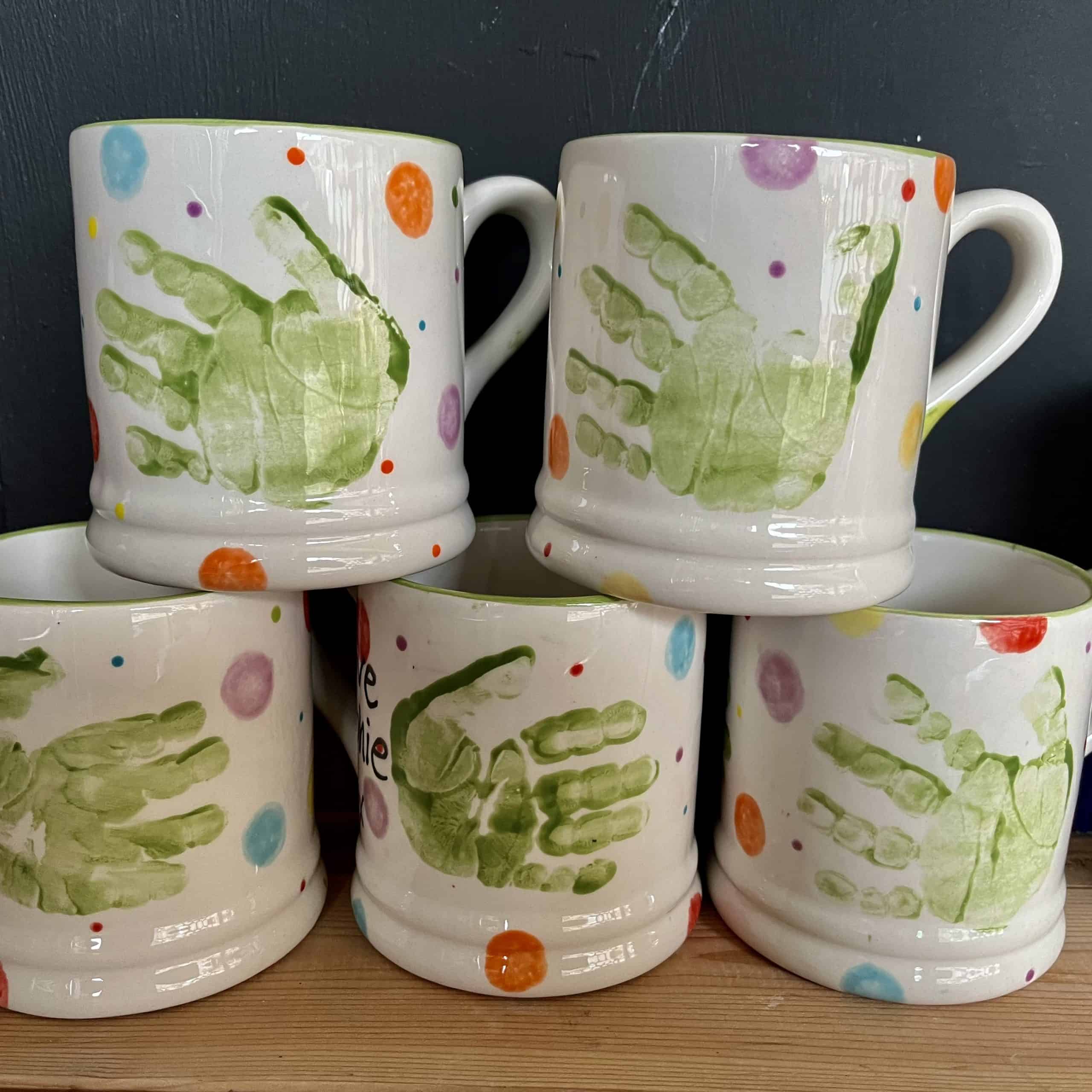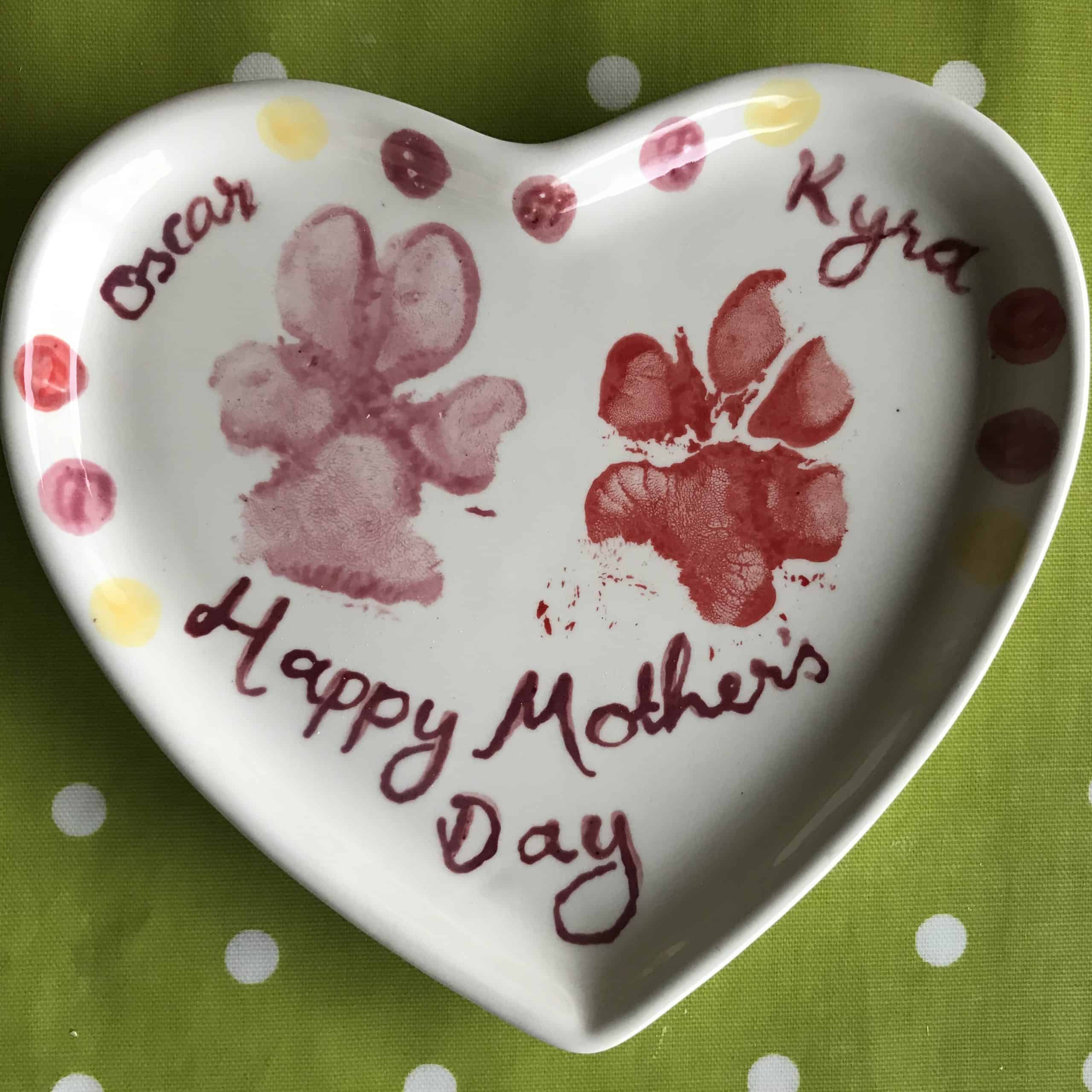 HOW IT WORKS – Bring in your baby or 'furbaby' and get their tiny hands, feet or paws onto some pottery. Prices depend on what pottery shapes you select, we have over 88 different shapes to choose from at any one time. Plates, Bowls, Mugs, Jugs, Clocks and Picture frames to name but a few. I will help you take the hands and foot prints or the paw prints and if you would like me to paint the text and accompanying artwork for the piece I can do this for you too.    
All pottery is kiln fired and once ready it is both food safe and dishwasher safe.
WHY NOT – Get a group of other mums together & make a party of it.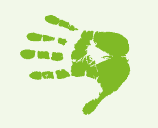 2 Casts in a frame cost £125. This includes the 2 casts (either hand or foot or two hands or two feet) in an Light or Dark wood box Frame with a name plaque.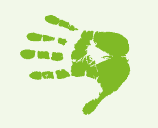 2 Casts & LOVE in a rectangular frame cost £135. This includes each foot, to form the V of word Love.  (For an extra £20 a hand cast can be included which could take the place of the O in the word Love).  The rectangular frame can be in a Light or Dark wood Frame with mount and a name plaque.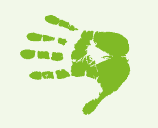 4 casts in a frame cost £168 – this includes 4 casts (2 hands and 2 feet) in an light or dark wood box Frame with a hand written plaque.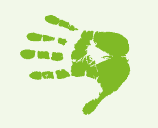 If you would like a frame that includes space for the casts and a photograph of your baby these are quoted individually.
COLLECTION – Please allow at least 14 weeks before collection of finished casting.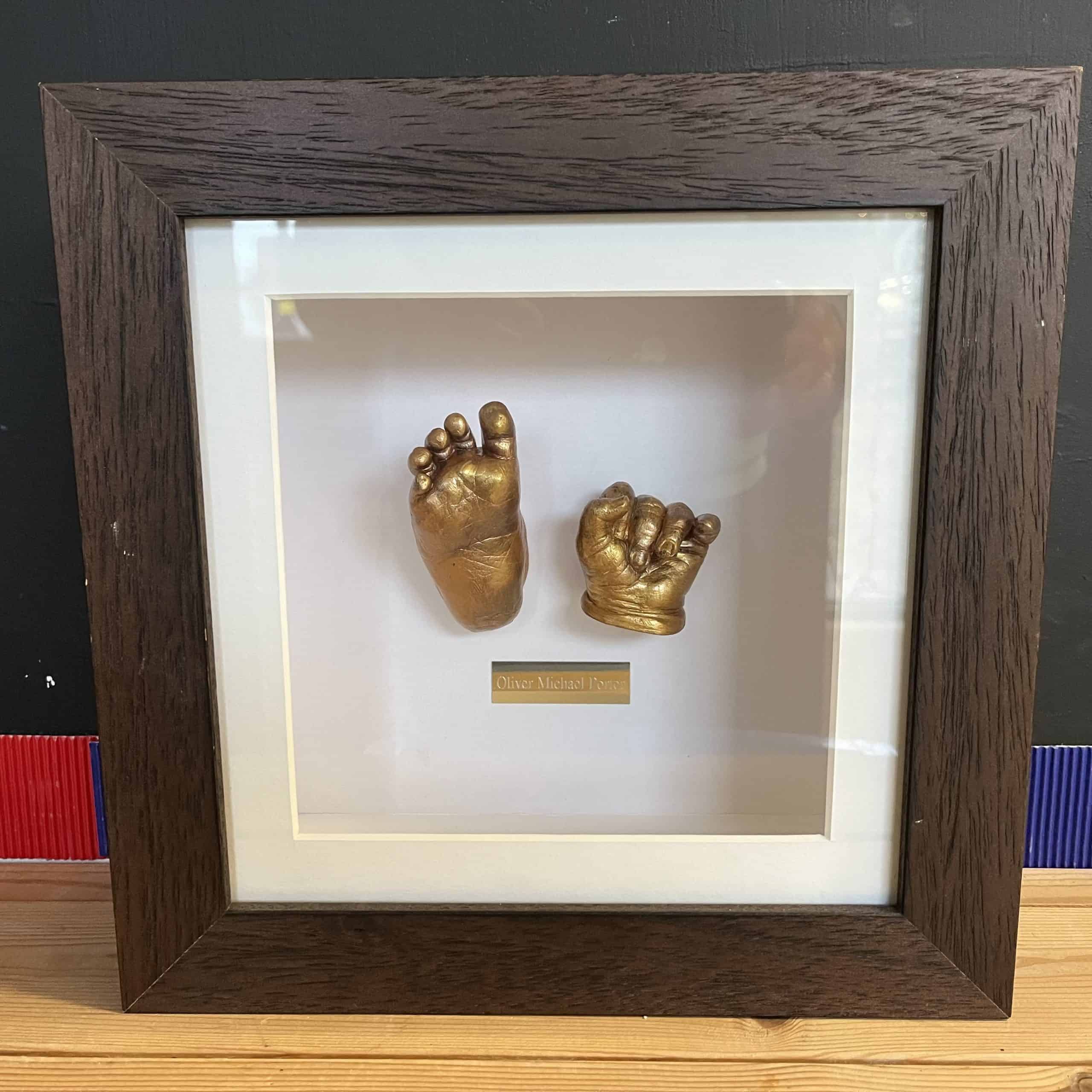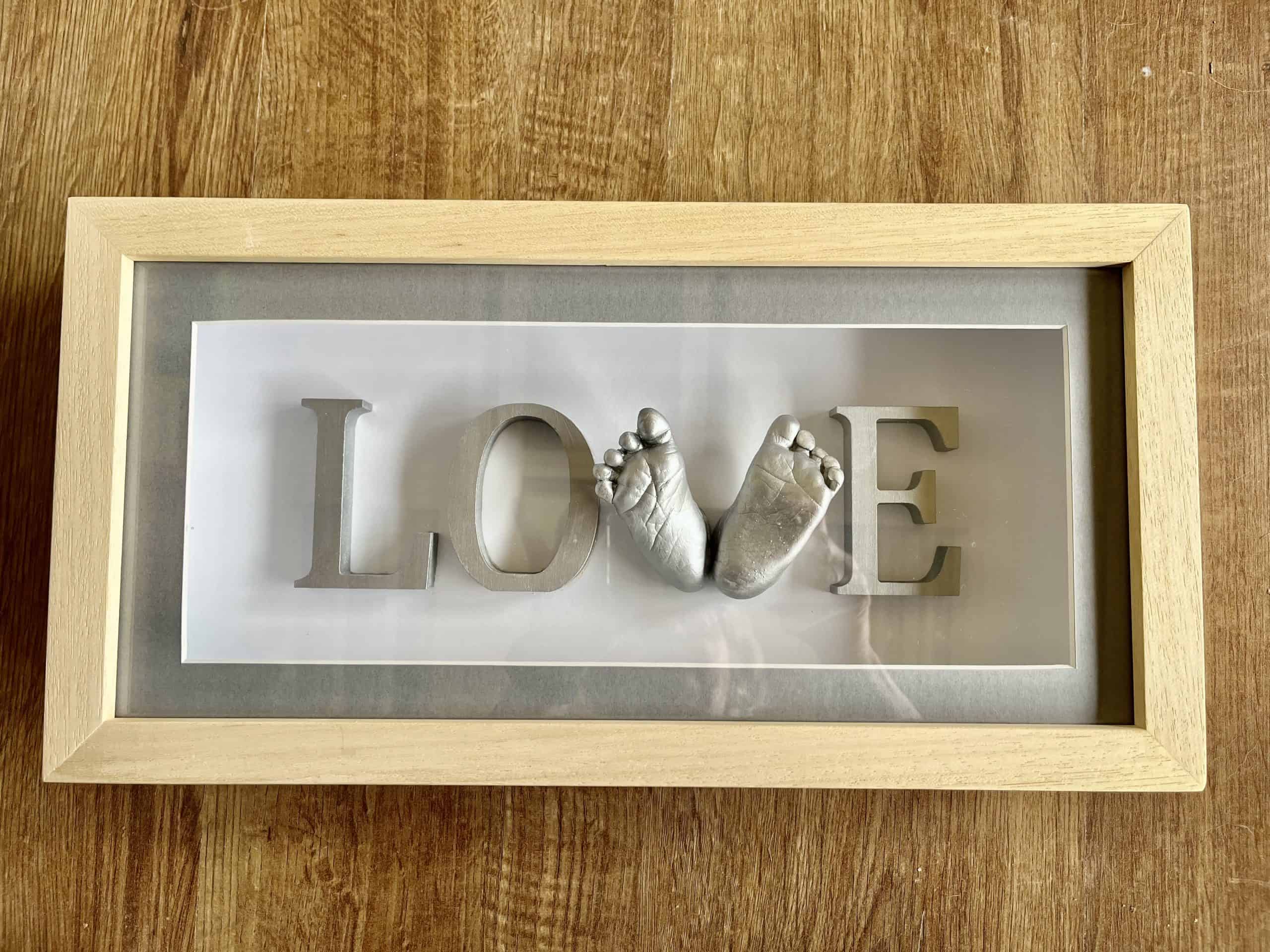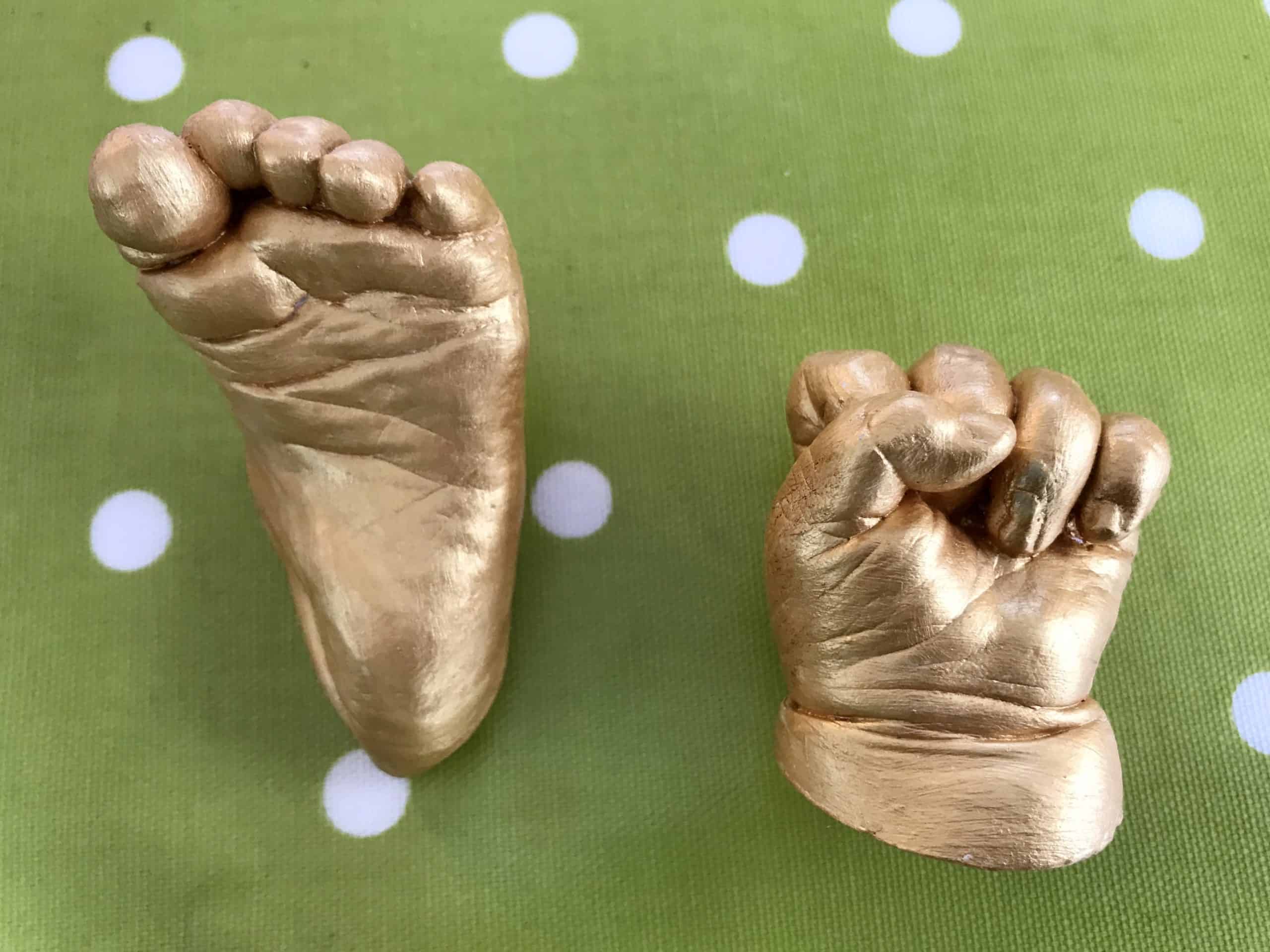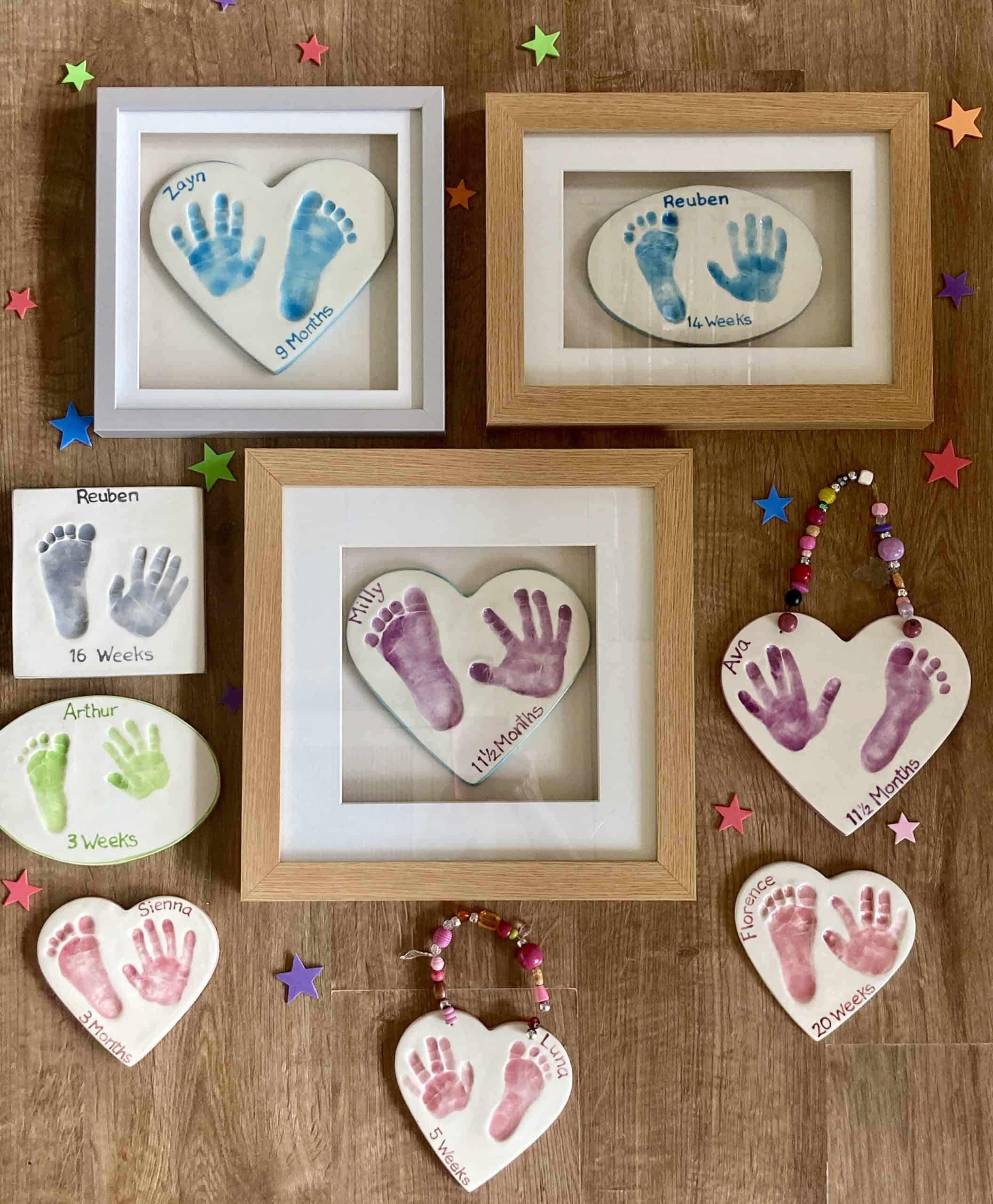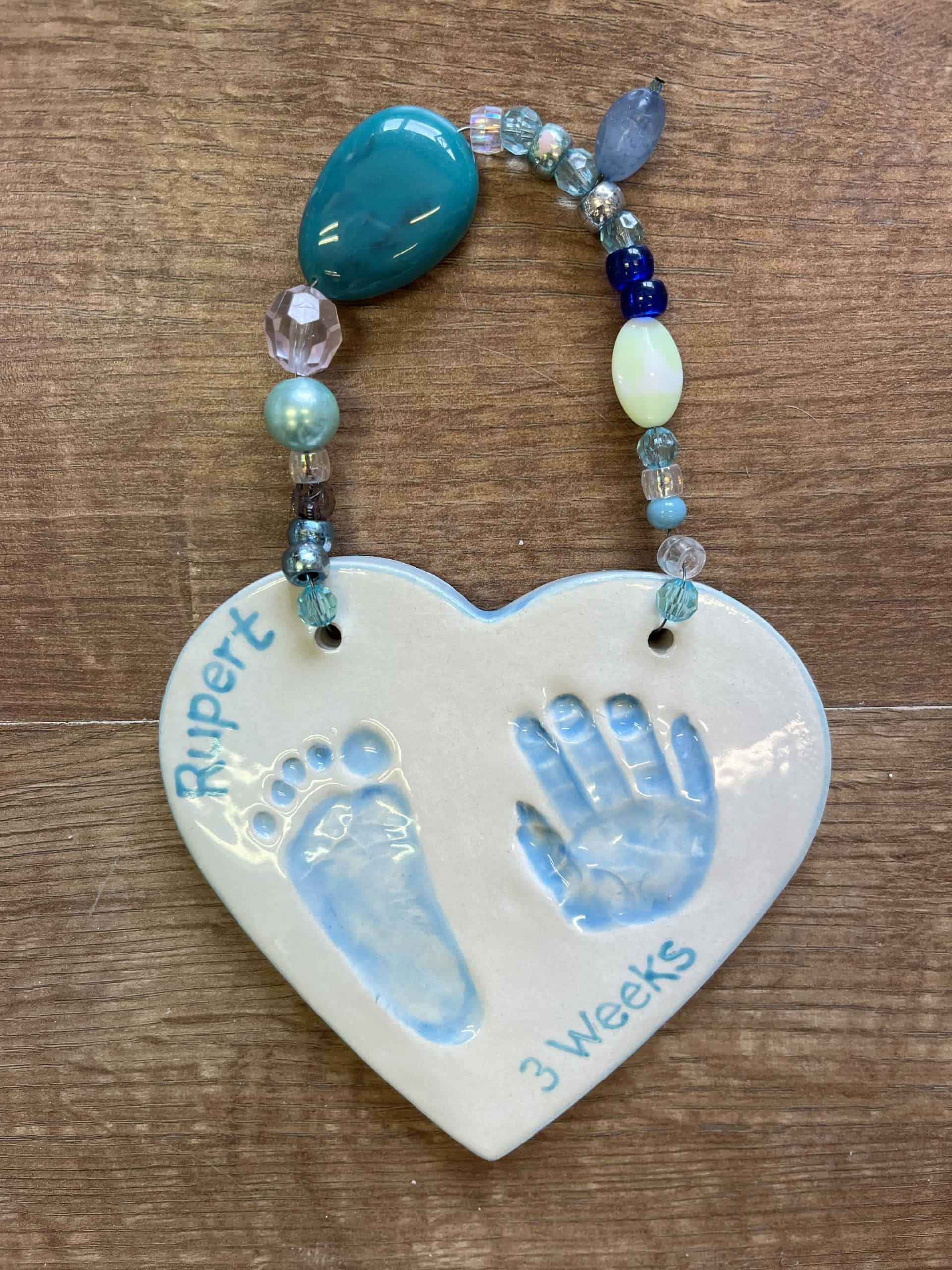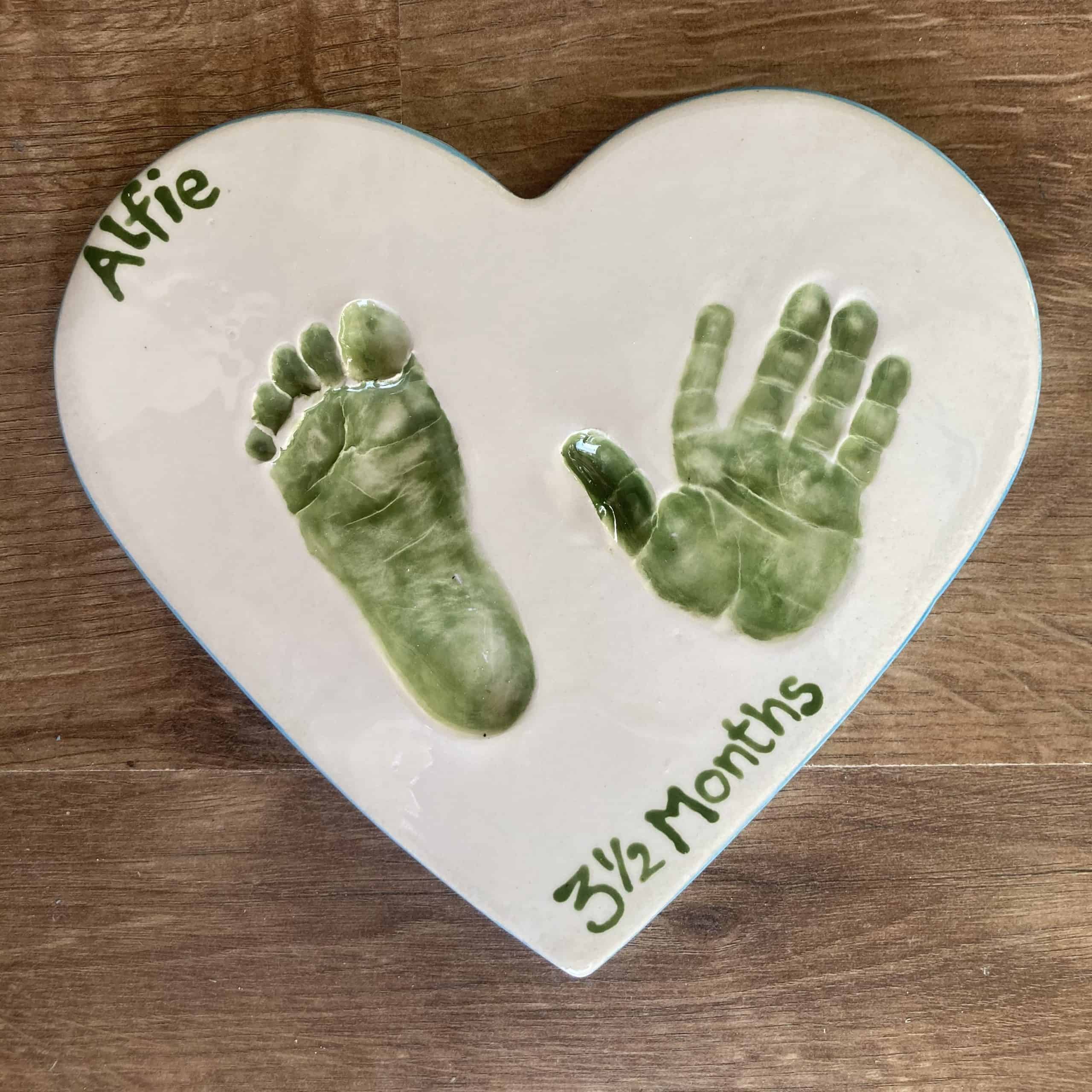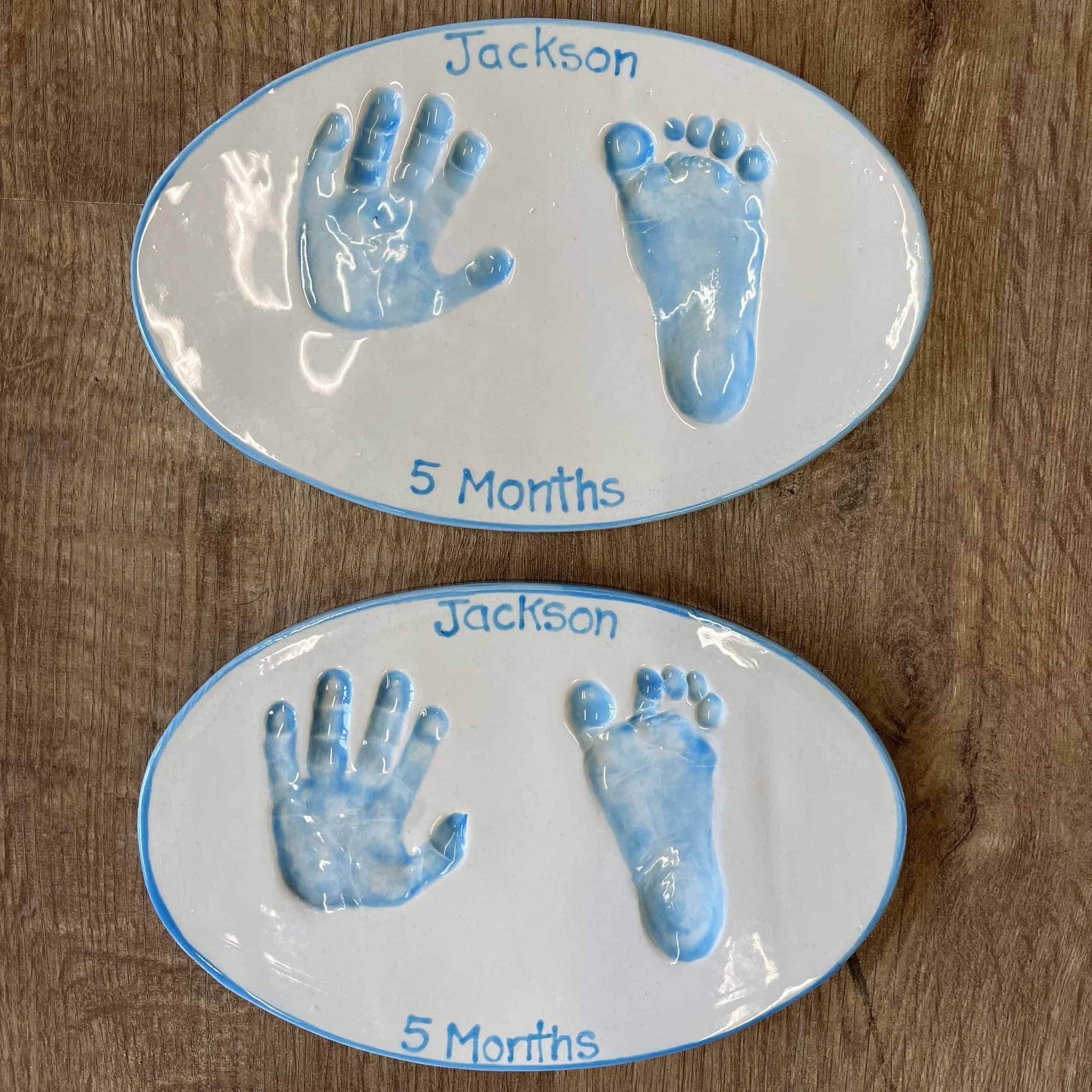 HOW IT WORKS – these clay imprints are really striking, with the prints picked out in a gorgeous range of coloured glazes, the available shapes are heart, oval or square.

A hand & foot – small £50 unframed, £77 framed

A large hand & foot £60 unframed, £87 framed

2 hands and 2 feet unframed £90, framed £125

1 hand and 1 foot, with a beaded hanger, Small £57, Large £67

Paw Prints 1Paw £37 2 Paws £47 with a beaded hanger, 1 Paw Small £45, 2 Paws £55.       Framed  1 Paw £50 2 Paws £60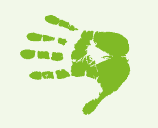 NECKLACES
Available with a 20inch sterling silver chain as an additional £15. The heart shaped pendants come in 4 sizes:
– Small version 18mm
£85
– Standard version 22mm
£95
– Large version 24mm
£105
– Larger version 31mm
£115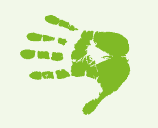 CUFFLINKS
Round 17mm £125
Square 17mm £130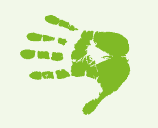 LEATHER KEY FOB
Available in 7 colours
£55
COLLECTION – Please allow 2-3 weeks before collection.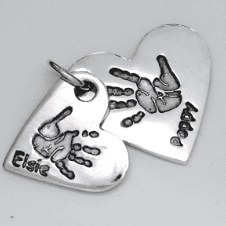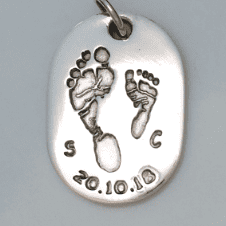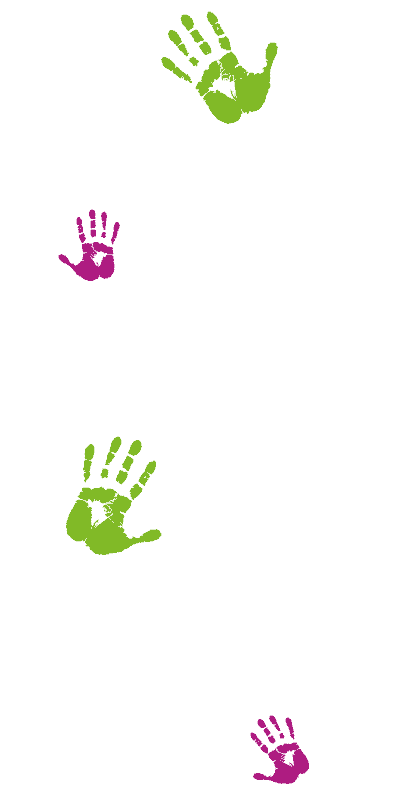 Please fill out the below form with your name, phone number, email, date you would like a booking and how many people. I will reply to your email as soon as possible.