Below you can find our upcoming events and workshops.
Pot Doodles, to create and keep.
CALLING ALL 'CRAFTERS OF CLAY'
THIS SUMMER HOLIDAYS – I will be hosting 6 different "Play with Clay" workshops.
They are:-
Wizards 🧙🏿Hat
Monster👹 Mouths *
Fox🦊 Pots
Fish🐠 Dish
Leaf🍁 Dish
Spot 🟡 Pots *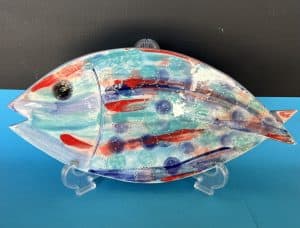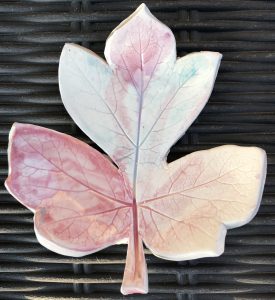 Various hand building techniques will be deployed to make these fun pieces.   They will be made with high firing white earthenware clay from beginning to end, including the painting and decorating of the pieces, using the special greenware (that's raw clay) glazes that I have available, and then they will be kiln fired.
Suitable for ages 7 upwards. Children under 12 need to be accompanied by an adult.
Each workshop is £20 Per person.
Includes a go at the Pot Doodles Lucky Dip.
* with thanks to Mayco
WATCH THIS SPACE FOR TIMES AND DATES OF EACH OF THESE WORKSHOPS
COMING SOON 
The next POTTERY & PROSECCO EVENING
🖌🎨🍾🥂
Bring your own bottle, select your friendship group and come and have an evening of creative mindfulness, painting pottery and catching up with friends.
I generally have over 88 different shapes to choose from.  Prices start at £12.   There is no additional charge for a Pottery and Prosecco evening, the cost of the pottery you choose to paint includes, studio painting time, glazes and kiln firing.  
TO BOOK, CALL 07710183891 or text me.  Please give your name and contact number and state how many places you would like.
POTTERY WHEEL WORKSHOP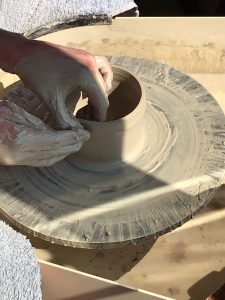 ⭐️"SEIZE THE CLAY" !⭐️
Learn to throw a pot or mug.   Maisie The Touring Potter is back with us again on Saturday 24th June at Pot Doodles:- sessions are as follows
🎨10:00 to 11.30 TASTER session. 
1 place available.  
🎨12:00 to 1.30 TASTER session
1 places available. 
🎨2:00 to 3:30 MUG & COASTER session.
6 places available.   
🎨4:00 to 5.30 TASTER session. 
3 places available.  
Cost is £42.50p per person.  
TO BOOK PLEASE call or text 07710183891 to reserve your places.  A deposit of £30 each is required.
Please give your name and contact number, the time slot and type of session you would like and how many places you require.